The Small Business Owners' Guide to Buying Logos Online
Getting Started:
Starting a new business is exciting. After you put together the basics, you will soon be looking for a logo for your new business. There are thousands of places to get a logo design. Learn more about average price ranges, file formats, resolution, printing your design, and other basics to getting a logo. There are many considerations in creating a company logo, we hope this will help you navigate the myriad of options. Create your own Business logo online via our onlinelogomaker.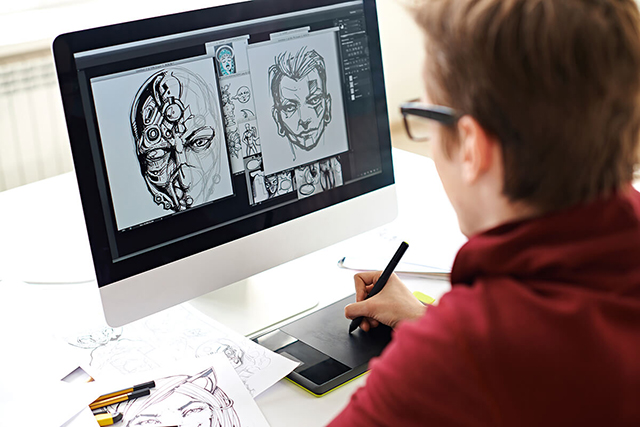 What's in a price?
So what's the deal with all these cheap logos. Everywhere you look on the net, you will see logos that vary in all sorts of price ranges. There are pre-designed logos that go for as cheap as $9.00 . Wondering why some are $500.00 and some are under $10.00 ? This article aims to help you understand the different types of logos out there, some of the considerations when picking a logo, and some of the pitfalls that may befall small business owners.
Most of us have the attitude that you get what you pay for. Unfortunately in the hairy world of logo development this is not true. Professional logo designers price their designs based on a combination of their own estimate of their self worth and going market rates. It's up to you to decide how much you will actually pay for your logo design.
Our advice is to start with a price range that you are willing to pay. Once you have an ideal price range for company, then you can begin to look for logos and companies that fit into your budget. The following chart is a guide you may want to use in judging how much you should pay for a logo design.
$5 – $10 – This should cover template, and clip art web logos. You will be hard pressed to find a professional designer who will make a custom logo for you at this price.
$20 – $50 – Some discount logo places will design a custom logo for this price. However you are not likely to find a company who will make a 100 % unique design for this price. The colors, text, and shape combinations will be unique. Don't worry about clip art being used as long as you can change any color of any element of the design. Beware of designers who can't change color schemes of a logo – that's a sure-fire sign of a template being used. Also, for this price you deserve a logo that has not been resold.
$75 – $100 – This is the average price of a unique custom logo on the web. You will find higher prices at design firms that are not web based. For this price you still probably won't get a hand drawn logo, but you will definitely be getting something on a higher level. You should expect multiple revisions and a customer satisfaction guarantee of some sort.
$200 – $500 – Now this is the high end of logo design. For this price your graphic designer should cater to your every logo need. Expect to get exactly what you ask for. You should be able to get custom artwork drawn for this price. Your logo should have every aspect of it be unique. At this price range you may even request to have custom fonts developed for your company.
What about a Web Logo?
A web logo is a logo design developed specifically for web use. This means that it will probably be very colorful, only come in regular image formats such as jpeg, gif, png etc. These logos are not suitable for printing purposes. They are perfect fr use if you just have a web based project that requires a logo design. Don't get a web logo if you are looking for a logo to use for your company outside of web -based mediums.
Pre-designed Logo
This logo type is also called pre-made, or predesigned and occasionally template – although it does not mean template logo. These are designs that have been created already. You will see what the logo looks like already and all that's left to do is insert your company name and / or slogan into the design. This is the most convenient option for small business owners. Pre-designed logos offer you the most ease when searching for a design. This way you find one you like and already know what the end product should look like.
Template Logo
Beware the template logo! They are logos designed off of pre-designed templates. Unless a design company explicitly states otherwise, assume that these are resold to multiple customers. This means that someone out there might have your logo as well. If you are not too worried or are not considering trade marking your design, you can consider this format. Template logos can look just as good as other formats, but make sure you understand what you are purchasing.
Custom Logo?
This type of logo is the unique design. It might include a designer hand drawing something for you. Or it might include just whatever concept you have for your logo design. These are the most expensive of all formats, but if you want to use your logo for life, for trade marking, printing, etc then you will want to go this route.
File Formats?
Have you been feeling overwhelmed by all the file formats available for logos. Want to know what's the format that you need? Curious about what formats your web developer will need? Before we list the formats – let's explain the difference between vector and non-vector formats. Vector images are 100 % scalable. Images look OK when scaled downwards but scaling upwards to make them bigger is another story! If you are getting a logo design – always go for the option that includes a vector-based file format. There's no use to a logo that's so small you can't print it on your stationary or put it on a sign. Non vector-based formats cannot be scaled upwards. This means that the size you get is the best it gets!
Not sure what formats your professional printers will request ? Here's a rundown of the most common file formats and their uses.
o *.JPEG – This is a non-vector based format used for web use and occasionally printing
o *.PNG – This is a non-vector based format used for web use and occasionally printing
o *.GIF – This is a non-vector based format used for web use and occasionally printing
o *.WMF – Windows Meta File This is a vector-based format
o *.PSD – Photoshop Document – This is a layered file format that may or may not be vector-based. You will have to ask your developer if the PSD file is vector . Printers often request this file format.
o *. AI – Adobe Illustrator – This is a vector based format . Printers often request this file format.
o *.EPS – Encapsulated Post Script – This is a vector based format . Printers often request this file format.
o *.BMP – Bitmap – This is a non-vector based format
o *.PDF – Adobe Acrobat Format – This can be vector based or not. Printers sometimes request this file format.
o *. TIFF – This is a non vector-based format. Printers sometimes request this file format.
Resolution?
What is resolution? Resolution is important! If you only need your logo for the web, you can accept a logo at a resolution of 72 dpi (dots per inch). Should you need a logo for professional use do not accept anything at a resolution lower than 300 dpi. The higher the resolution the better your design will look. Always clarify this with the developer.
Resizing?
Just remember that vector based images can be resized. Unless you have graphic design software of your own, never resize a non-vector-based format upwards on your own. Your design will appear pixilated. Just remember this basic rule – smaller always looks good, bigger gets blurry!
We understand that there's a lot of information in this – but hopefully you will be better armed to start the search for a logo for your small business.
Should you need to look through our services for any of the above mentioned logo types you can use the following links:
Vector vs Bitmap?
When tackling the world of logos and images you will inevitably come across the words vector and bitmap. The barebones difference is that vector images are made up of lines and curves and bitmap images are made up of tiny spots of color called pixels.
You could think of vector as mathematical representation of lines and curves and bitmap a collection of millions of tiny dots of color to create an entire picture. The critical difference between the two is that vector images can be sized up to any size. You can get a 2 inch image and blow it up to be hundreds of feet wide if you wanted. Since a vector image contains information about the lines and the curves – there are no limitations to how much larger it can be made. Bitmaps are just dots – so the same rule does not apply to them. Since enlarging them means creating new pixels (dots) the enlarging inevitably leads to blurring of the image. So what's the bottom line for you? If you intend to use a design as a company logo – you absolutely must get a vector format of the design.
There are many vector formats. There is Adobe Illustrator, Macromedia Fireworks, EPS, SVG, and Windows Meta File. BMP, gif, jpeg, and Tiff are just a few of the bitmap formats.
So where will you need a bitmap format if vector format is so great? For starters – you will need bitmap formats for web use. You won't want to put up an EPS file or an AI file on a web page because browsers are designed to read jpeg, gif and png. The bottom line is that if you want to use your design for print – get a vector format. If you want to use a design only for the web – get a bitmap format. If you aren't sure what your intentions are, then request that your design be created in vector and converted to non-vector formats for you.
Picking reputable developers.
The strength of any design firm / logo design company will be the size of their portfolio. Do not hesitate to request the portfolio of a company you are considering. Their portfolio should also be extensive. Beware of a firm that has only 10 or 15 samples to show you. They should also be willing to share names of their past customers with you. Make sure that you learn as much about the company and its business process. If you don't know where to start – just use Google to look up if anyone else has complained about this company on the internet.
Once you are ready to take that leap and start shopping for your new logo design, why not pay a visit to the free logo makers, one of the oldest logo design companies on the web.
Professional Predesigned Logos
Article Source: http://EzineArticles.com/expert/Kat_O./234851
Article Source: http://EzineArticles.com/1303248