Is Repainting Your Car Worth It?
Thinking of repainting your car? Whether your car has been in an accident or is showing its age, you may want to have some areas-or the entire vehicle-repainted. Since the condition of your car's finish determines its general appearance, a paint job can keep your vehicle looking new. Paint also protects the metal and slows down rust and corrosion. Ceramic coating Canberra treatments are designed to help protect your investment, perfect its appearance and make it very easy to care for.
How Much Should You Pay for Repainting Your Car?
Repainting is a good option, but whether you want to have your car painted after damage or to improve its looks, a quality job is costly. If you listen to TV ads for low-cost national chains that paint cars, you can have the job done for $250-$400, but estimates from local body shops usually run between $1,000 and $5,000, a far cry from what is quoted in those commercials. What is the difference? What should you look for in a good body shop that can deliver a quality paint job?
In considering these questions, it is important to acknowledge that sometimes a low-to-medium-priced job will serve your purpose just fine. An older car probably does not merit a huge investment in painting. Even if you seek a cheap paint job, you can still get a quality job if you know the right questions to ask.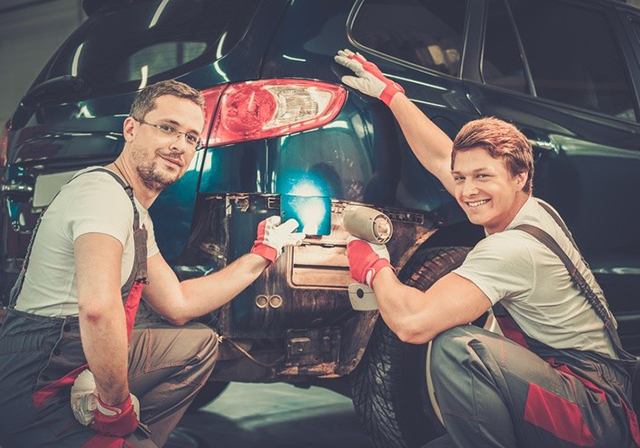 What Determines Repainting Cost?
When painting a car, the materials and the amount of labor required both figure into the price. Body shops can use less expensive paints that run from $40-$80 per gallon, or high-end products sold by the quart, which can run from $30-$100 per quart. Some specialty paints can run hundreds of dollars a gallon on a job that can cost up to $20,000. Among lower-priced paints, major manufacturers offer some serviceable products with a good base for clear coats or glosses and stay chip-free for years, as well as some inferior products which are notorious for chipping and peeling within a year.
No matter where you go for your paint job, make sure to ask about the brand of paint and do a bit of research to verify that the shop is using a quality product.
What Accounts for Labor Costs?
The labor involved in repainting the car depends on several variables:
How much of the car needs to be repainted?
Do you want a simple one-stage paint job or do you need clear coats, metallics or other special treatments to obtain the desired effect?
Will the shop repaint areas inside the trunk or within the engine compartment?
Will the shop remove parts next to an area to be painted or tape them to prevent overspray?
Will the new paint job be the same color or a different color?
How will the shop prepare the surface of the car? Will they prime before painting?
Does the shop use a properly vented paint booth that will limit the amount of dust and bubbles in the paint?
Not surprisingly, the more steps the shop takes, the higher the cost of the job. The more paint the shop uses to cover interior areas, the more costly the job. This means that if you are changing the color or opting to have the interior areas of the car refreshed, the cost goes up.
Select a Shop Carefully
When deciding to have your car repainted, your goal is to get the best job you can afford in view of the value of the car. Even for a cheap paint job, you want to make sure you are using a shop that will take care to assure good workmanship, a job free of dust and other imperfections, and durability for a few years. You might not have a fortune to spend, but by researching a few shops, you can find one that will do a reputable job repainting your car.
Albert Westbrook has a love of cars and enjoys writing about them. He recommends Everest Collision Repair for automotive paint jobs in and around Sandy, Utah.
Article Source: http://EzineArticles.com/expert/Albert_Westbrook/1672337
Article Source: http://EzineArticles.com/8808469